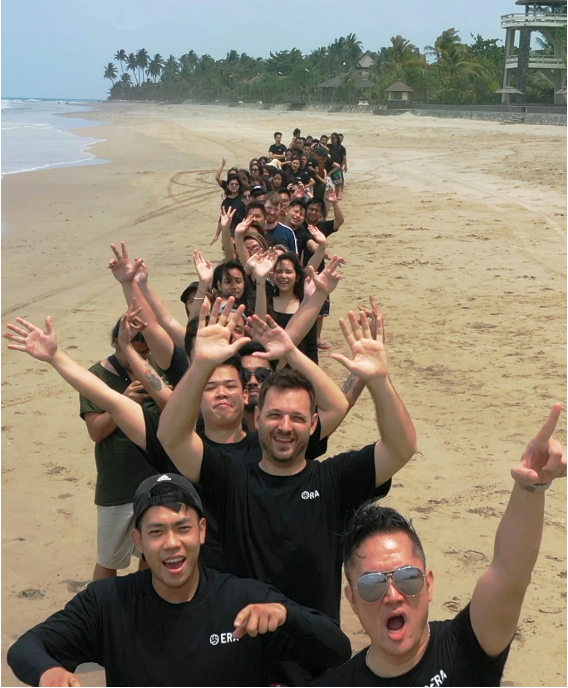 Who we are, and what makes ERA different
---
ERA is a brand and strategic communications consultancy that sees beyond tactics and KPIs, into ways we can deliver real outcomes.
---
We are a Southeast Asian PR network, considered one of the world's most creative firms. Our mission is to set new standards for communications in the region by delivering best-in-class public relations programs to leading multinational and local organizations. We strive to make it easier, and more rewarding, for our clients to engage with countries that, when taken together, represent an opportunity to advance their ambitions among hundreds of millions.
We know what separates a good organization from a great one is having a team that knows why they get out bed each morning. ERA understands why our clients do, and shares a genuine interest in pursuing that mission together, making a difference in our clients' lives and to their most important communities around the region.
---
THE WORK WE DO: SOLVING FOR "WHY"
---
"Solving for why" is our unique approach to communications planning, client service and our mindset. This approach has helped us solve challenging communications issues for some of the top organizations in the world, from consumer engagements to strategic or reputation-centric communications. It is also the reason ERA has won Southeast Asia PR Campaign of the Year for three years in a row, and been named one of the world's most creative PR firms.
With business value and insight as our foundation, our method begins with constructing a narrative that captures our client's purpose, culture and direction. It then involves engaging communities based on a defined and well-understood universe of stakeholders. We align corporates with their stakeholders, using a variety of communications approaches to best create business value.
Corporate Leadership & Communications
Our leadership have reputation management experience at some of the top firms in the world, and have seen issues unfold across various industries, clients and geographies. We use this experience by creatively and appropriately formulating strategies to deal with sensitive matters of reputation.
Crisis, Issues & Reputation Mgmt
Organizations that see purpose as an afterthought, rather than a central part of their operations are at a disadvantage. When an organization is blind to the important intersection of their operations and the effect they have on society, it can have far reaching effects with audiences who expect them to create meaningful change in society, and value beyond financial gain. Many are holding businesses directly responsible for their actions and commitments and we help our clients understand and meet these measures.
Social Impact & Purpose Campaigns
Our brand and lifestyle practice starts at brand strategy, identity and storytelling, and covers integrated marketing programs that use social media, digital, content, influencers. experiences and more to uncover a brand's purpose, make our clients more attractive employers, or discover how consumer brands can innovate, influence and engage.
Brand & Lifestyle Communications
Share your brief with us now.
---
Submit your email address below and someone from our team will get back to you right away.
Award Wins (in media relations, reputation and crisis, digital, brand development, purpose and more)
ERA's 2022 Rank in the PRovoke Global Creative Index (APAC)
Years ERA has won Southeast Asia PR Consultancy of the Year